Facilities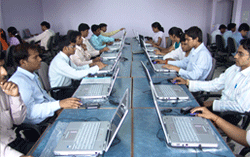 Computers Labs
Well equipped computer facilities with latest generation computers in three state-of-the-art computer centres
All softwares in use are original licensed products.
The softwares required by students for various specializations like MS Office XP, Adobe Photoshop , Macromedia Flash, Macromedia Dreamweaver, Tally, MS SQL Server, Visual Studio.NET etc. also available at the centres
Internet facility with 4 Mbps through Radio Frequenc
LIBRARY
Mission Statement :
The LRC houses a varied collection of management books and related topics. The collection cover areas of strategic management, business, environment, international trade, entrepreneurship and human resource management. The short loan collection comprises of course texts while the reference books section includes dictionaries, directories and almanacs.
SERIALS :
We currently subscribe to a wide range of printed and electronic journals. The LRC has also a large collection of old journals.
IPM PROJECTS :
The summer and course related projects of the former students are only for in-house use and they are available from the LRC desk to current students, staff and IPM faculty members only.
ELECTRONIC SOURCES :
Students have access to many statistical, financial and management sources and to thousands of journal articles, company, country and market reports, news etc. The institute has online subscription to Emerald Insight.
NEWSPAPERS :
The LRC subscribes to several Indian and foreign newspapers and keeps an archive of their circulation for the past six months.
Membership – Who can use the LRC? :
The LRC exists to serve the needs all of those studying, researching and teaching at IPM. You can join the LRC and borrow books if you are:
A full-time or part-time student at IPM
Staff of IPM
Faculty of IPM
Visiting academic working at IPM
Alumni
An Individual or Corporate Member of the LRC
Students enrolled for IPM programmes are automatically given membership of the LRC. If you are not a student at IPM and wish to join as an Individual or Corporate Member, please contact the LRC & Information Services Managers, Mrs. Anita Tyagi or Mr. Pankaj Chaudhary.
Opening Hours
Our opening hours are:
Autumn Semester : 8:00 am - 7:00 pm
Fall Semester : 9:00 am - 6:00 pm
Contact Us
Mrs.Anita Tyagi/Mr. Pankaj Chaudhary
LRC and Information Services Manager
Tel: +91 120 2788082 +91 120 2788082
Email: lrc@ipm.edu
LECTURE THEATRES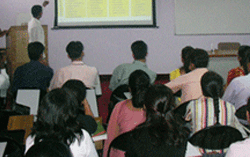 Four ergonomically designed classrooms for optimal interaction.
Equipped with modern teaching aids and state-of-the-art facilities. Syndicate ,Conference ,Toye Rooms for use by students, resource speakers.