Objectives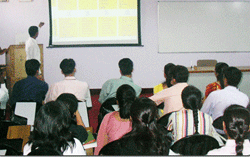 To be vibrant and responsive to changing business environment.
To complement and supplement syllabus based learning through series of seminars, workshops, personality development activities.
To groom decision makers with strong leadership and team skills.
To be society's engine for wealth creation through EMRC.
To encourage a research oriented environment and help define the next wave of best management practices.