The Genesis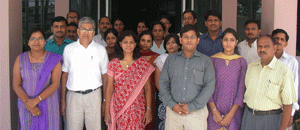 IPM -the institution was established in 1977 by a man who dreamt of bringing management education to the common man. In its journey encompassing many obstacles, the institute has never transgressed / deviated from its core values of discipline & punctuality. The journey has brought many challenges in terms of changes in technology, attitude, broadening of markets etc. But the institute because of strong ethical values, has made a name for itself, as an institution to reckon with.
Today, a majority of IPM alumni are working abroad in transnational corporations.
This is because the IPM nurtures a mindset which is global right from the day you enter its campus. All activities take the global perspective into consideration so that one gets into right frame of mind. In its' endeavour the institute has never compromised on its quality and thus stuck to only the single management programme, inviting students through a rigorous entrance test from all over. The myriad variety of its pupils brings in wholly different dimensions to the classrooms.
The reason: to keep pace with the latest and the best there is, globally, through exceedingly competent professionals and academics.
Learning today, has become a lifelong task – an emergence, not from 'choice' but as a necessity, a compulsion that has become mandatory for survival amongst the fittest.
A small but user friendly campus which makes all know each other, an informal air flows all round. Students are encouraged to remove doubts as and when they arise and are free to meet the faculty anytime and every time, the faculty is more of a friend by the side then a sage on stage!The journey has been long and arduous but the fruits have been very sweet. The founder's presence is always felt because the core values of discipline and punctuality still permeate!